I have a couple of wonderful testimonies concerning two villages located in Kenya Africa, where we have recently started village feeding programs.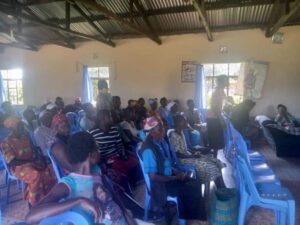 The feeding program only just started a few months ago when we received a desperate plea from Florence (Debbie), our Rock Solid Truth Int. Coordinator in Eldoret, Kenya, to help in feeding hungry villagers in the Webuiye Village.  We asked many questions concerning the help she requested and with prayer decided it was the right thing to do.  When people are hungry and desperate for basic food items, then how could we refuse.  These events turned out to be wonderful experiences for us, and of course the villagers.  They rejoiced to receive the food.  In fact, after the meal 3 men from the village received salvation.  On the second event there were 71 women present.  One woman, who had never been to a church, was also gloriously saved, making Christ her Savor and Lord.
Most recently we added another village to our feeding program, Chemuswa Village.  because they too were in dire need of food.  It was an easy choice, and one we will never regret doing.   Rock Solid Truth Int. fed 69 women and men.
Are feeding programs necessary?  I tell you that they are, in both regards.  You can't effectively minister to people about salvation without first ministering to their physical needs.  It's a two-for-one blessing.
Rock Solid Truth Int. is attempting to do great things in Africa, and across the globe, as the Lord directs.  We are looking for people, just like you, sustaining partners, who have a heart to help us in our efforts.  Won't you join us?
Visit back for all updates and countless pictures documenting these very efforts.  We promise all of our donors that literally 100% of all financial gifts goes directly for the purposes mentioned.
Address:  Rock Solid Truth Int., P.O. Box 92, Silvis, IL 61282
We Bless You in Jesus' name.
Donald K Grooms, Pastor, Evangelist, and Author