Bibles for Liberia
If you follow us on Facebook via Donald K Grooms, then you are aware of our recent missions' trip to Monrovia, Liberia in January 2020.  Additionally, Rock Solid Truth has also scheduled missions' trips to India and Pakistan for 2020.  This year will no doubt be a pivotal year for this ministry.  It is plain to see that God is opening doors in a miraculous way.  The requests from the continents of Africa, India, and Pakistan are simply overwhelming.  People are longing to hear the message of God's marvelous grace, and to experience God's four-fold ministry as shown in the gospels.
One of the exciting things we did for the trip to Africa is to ship 144 King James Bibles (see photos), which were personally distributed in the various villages where crusades were scheduled.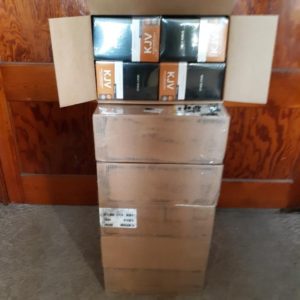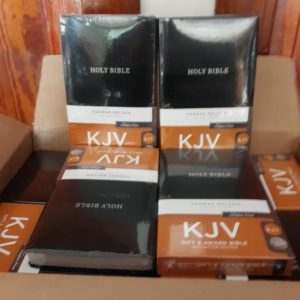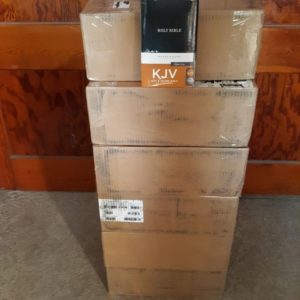 Most folks don't realize the tremendous cost of providing bibles to third world countries, and the even higher cost to ship them overseas.  We were blessed to receive a generous contribution from a husband and wife to purchase these bibles, as well as a financial plea to partners and friends of Rock Solid Truth on Facebook.
The bibles we purchased are quality bibles and will be a blessing to the many pastors and church leaders for preaching and teaching God's word in their respective villages and area churches.  Most of these pastors have never actually owned their very own bible, but have had to rely on portions, or pages, of scripture that they have acquired along the way.  Our mission objective is to see that quality bibles are purchased and sent to these areas and countries where we minister.
I am looking for sustaining Ministry Partners who will support Rock Solid Truth International in this end time ministry.  Won't you be a part?  All contributions and charitable giving are tax deductible.
We thank you in advance for any contribution.
PS – I will be posting many photos of the people, villages, and orphanages where ministry is conducted.  I will also include photos of the actual distribution of the bibles we just sent.
Bess you in Jesus' name.
Donald K Grooms, Pastor, Evangelist, and Author